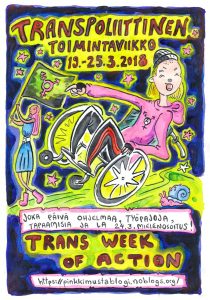 Events, workshops and meetings every day! Demonstration Sat 24th of March.
Pink&Black Helsinki organises a Trans Week of Action on the theme: How to survive in a transphobic world?
During the week there will be workshops, meetings and other daily program. The week builds up to a demonstration on Saturday 24th of March. The demonstration will start in fron of the Kiasma (Mannerheiminaukio 2) at 2 pm.
PROGRAM
★MONDAY 19.3.★
Action Week kick off
at Museum of Impossible Forms 6 pm
Welcome to hear more about the weeks program and to watch a film! Week kick off also includes the opening of Voimaminä exhibition (Exhibition event https://www.facebook.com/events/157152478330344/)
The film shown is "Transgender life in Slovenia" (37 min, English subtitles). Action week info starts at 6 pm, film screening starts at 7 pm.
★TUESDAY 20.3.★
Sign, zine & banner workshop
at Happi Youth center 4-8 pm
Queer sexuality discussion
at Museum of Impossible forms 5-9 pm
For one evening we will create a safer space for trans people to talk about sexuality and read and watch books, brochures and other material about sexuality. Many sexuality events are cis/heteronormative and genital centric, so we want to create a queer space from an another point of view, a space where we can give and recieve peer support. Let's destroy cis/heteronormativity!
Programme:
17-18 Possibility to get to know the material, voimaminä exhibition, getting to know the space.
6-7 pm discussion safe sex, consent and boundries
break: socialising, getting to know the material, possibility to get advice on how to use different toys/equipment/ how to make diy toys safely.
8-9 pm experiences of embodiment, bdsm
There will possibly be some toys (diy whips, floggers etc.) on view but the space is meant only for discussion, not for playing.
Event is for transpeople and allies.
Welcome! 🙂
★WEDNESDAY 21.3.★
Help on surviving the application jungle and how to deal with bureocracy workshop
at Maunula-talo, 3:30-6 pm
In our everyday lives we have to deal with kela, TE-toimisto and other bureocratic institutions which is sometimes hard in this transphobic world we are living in. That's why we decided to organize this event. You are welcome if you need help or advice with something, if you want to help other people and/or share experiences and information or for example if you find it hard to fill applications on your own.
The event takes place in Maunulan nuorisotalo's computer class so you don't have to bring your own compurer with you. Because the classroom is in the youth center (nuorisotalo) there will be some people and noise outside during our event, but our classroom is well soundproofed.
Non-binary people in comics – discussion at 3 pm to 4.30 pm at Sarjakuvakes
(Porthaninkatu 9, Helsinki)
DISCUSSION IN FINNISH (possible translation tbc)
Comic artists Pii Anttonen, Apila Pepita ja Kimmo Lust talk about their comics, which often deal with their non-binary gender identities. https://www.facebook.com/events/960143930815661/
★THURSDAY 22.3.★
Zine work shop 5-9 pm
at Museum of Impossible forms
Come make your own queer-feminist-trans revolutionary zines. Materials provided in the workshops. Drop-by basis.
Bike workshop 6-9 pm
at Pyöräpaja
General information about bikes and also possible to fix your bike independently with possibility to get help/advice and we will ask people in the beginning what they want to learn. So a safer space for transpeople and allies.
Workshop will be in English and Finnish.
★FRIDAY 23.3.★
Support in transitioning 4.30 pm
at Museum of Impossible Forms
A peer supportive group meeting for people who are considering transitioning or who are currently going to transpoli and/or transitioning. Also people who have already transitioned but who are want to give support and advice about transpoli and transitioning are welcome.
We can talk for example about problems and difficulties in juridical and medical procedures and share information based on our own experience.
Non-binary meeting at 7 pm
at Museum of Impossible Forms
Possibility to talk about different topics, hangout, do your own work etc. in a peer environment. We will offer some snacks, coffee\tea\juice. Otherswise vegan potluck if you want or can.
Sign, zine & banner workshop
at Happi Youth center continues 4-8 pm
★SATURDAY 24.3.★
Demonstration at 2 pm starting from Kiasma

Demonstration event with latest info:
https://www.facebook.com/events/209938569560177/
Action week party at 6pm at Museum of Impossible Forms
Trans Revolution Now! -demonstration after-party. Music, poetry and stand-up (in Finnish). Performers include: Varjova, Talvikki Lehtinen, Susi Nousiainen and Susinukke Kosola.
Program begins already at 6.30 pm
Free entrance. Event is substance free.
Party event here:
https://www.facebook.com/events/777111395813376/
★SUNDAY 25.3.★
Come, eat & write letters of support to trans prisoners! Writingequipment like pens and stationary provided. Food 3-7e. All donations willgo to support trans prisoners. There will be a short presentation on Marius' and Diren's situations.
Marius Mason is an imprisoned transgender anarchist, serving 22years for acts of eco-sabotage. Marius is incarcerated at Carswell in FortWorth, Texas, a small, high–security facility; he receives few visits, his mail is monitored, and he is intensely socially isolated. Sincehe came out as transgender, he has engaged in a painfully slow process of medical screenings to see if he will be permitted to have access to theWPATH standards of care for transgendered people (hormones, surgery, andthe right to legally change his name to a gender-appropriate one of hischoosing).
Diren Coşkun is an lgbti+ activist and anarchist who was arrested during an IDcheck at the Diyarbakır Courthouse in Turkey, on August 14. She was told that there was a judgement on her for charges of "being a member of an illegalorganization" and "propagandizing for an illegal organization". Because she refuses to be in the same ward with men, she has been put in solitary confinement. She demands access to healthcare and trans-specific healthcare as well as to be removed from solitary confinement. Diren has beendiscriminated and harassed by prison authorities. On January 25th she began ahunger strike/death fast in her struggle for these demands. She finished hunger strike after 27 days on February 21st after she started to get vegan food and promised improvements concerning the health care issues. (Organised by: Helsinki Anarchist Black Cross and Anarchist Black Cross Vantaa)
Description of event places:
Museum of Impossible Forms
Address: Keinulaudankuja 4 E at Kontula shopping mall, 2nd floor
Map here: https://www.museumofimpossibleforms.com/gettingthere/
Accessibility: the space is wheelchair accessible, doorsteps max. 4 cm. Space has no accessible toilet, it has no steps, yet small. Nearest accessible toilet is located at Kontula metro station.
Happi youth centre
Address: Sörnäisten rantatie 31
Accessibility information: The space is wheelchair accessible and has accessible toilet.
Pyorapaja (bicycle garage)
Address: Pasilan Puistotie 12
Accessibility information: Accessible entrance, yet limited possibilities to move inside the space, due to many tables. No accessible toilet.
Sarjakuvakeskus
Address: Porthaninkatu 9, Helsinki
Sarjakuvakeskus is unfortunately not wheelchair accessible.
More specific info on the accessibility of the space: http://www.sarjakuvakeskus.fi/kurssit/saavutettavuustiedot
Maunula-talo
Address: Metsäpurontie 4
Map here: http://maunulatalo.fi/?page_id=3033
Accessibility: Main entrance is wheelchair accessible and all the floors are accessible by lift. Accessible toilets are located on the second and third floor.
Lymy
Address: Pengerkatu 6
Accessibility info: Unfortunately the space is not wheelchair accessible, there are steps
leading (downwards) into the space and three steps up to the toilet. The toilet is quite small, the door to the space and to the toilet are quite narrow.