In English below / På svenska nedan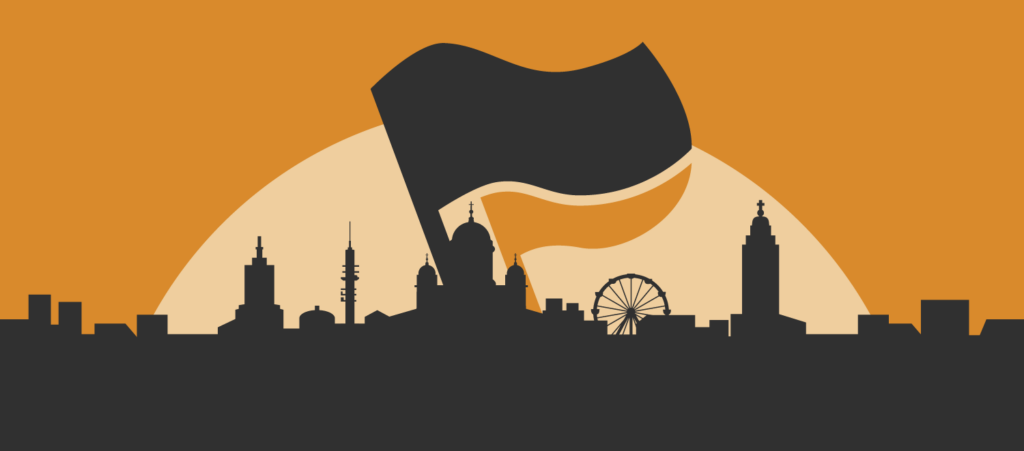 Kutsumme kaikki jälleen itsenäisyyspäivänä 6.12.2022 Helsinkiin osoittamaan, että äärioikeistolle ei ole kaduilla sijaa – ikinä!
Helsinki ilman natseja on jo vuodesta 2016 kerännyt tuhansia mielenosoittajia kaduille vaatimaan rasismista ja fasismista vapaata yhteiskuntaa ja ollut mukana rakentamassa antifasistista liikettä. Viime vuonna äärioikeiston 612-soihtumarssi blokattiin ensi kertaa ja pakotettiin kiertoreitille. Tämä yksittäinen voitto asettuu kuitenkin vain vuosikausia kestäneeseen jatkumoon, jossa järjestäytynyt antifasistinen työ on marginalisoinut äärioikeiston toimintaa ja kuihduttanut tapahtumia.
Huolimatta siitä, että äärioikeisto on joutunut tyhjät korttinsa jo paljastamaan, voi muutamista viimeaikaisista vaalituloksista Euroopassa päätellä, että yksinkertaiset ja todellisuuspakoiset ratkaisut vetoavat edelleen moniin, oli sitten kyseessä energiakriisi, ympäristökriisi tai kapitalismin kyvyttömyys tarjota turvattua ja vakaata tulevaisuutta kaikille.
Vaikka oikeisto laajemmin, äärioikeistoa myöten, viestiikin vastustavansa Putinia, Erdogania ja Iranin islamistista hallintoa, tarjoavat he lopulta samaa elämän kurjistamista ja vapauden kaventamista kuin edellämainitut, keskenään puuhastelevat autoritäärit. Venäjän aloittama hyökkäyssota Ukrainaa vastaan on hyvä esimerkki siitä, mihin näiden antidemokraattisuuteen ja kaikenlaisen vallan keskittymiseen tähtäävien "ratkaisujen" polku voi lopulta pahimmillaan viedä.
Samaan aikaan äärioikeiston väkivalta, häiriköinti ja uhkailu kohdistuu Suomessa ennen kaikkia heihin, jotka olemassaolollaan uhkaavat fasistien maailmankuvaa: Kankaanpäässä terrorismista epäillyt harjoittivat vuosien ajan rasistista väkivaltaa, viime kesän Pride-tapahtumiin kohdistui uhkailua ja häiriköintiä eri puolella maata.
Siksi antifasismi on antirasismia, kamppailua trans- ja homofobiaa vastaan ja naisten oikeuksien puolesta taistelemista. Se on vapauden puolustamista, jota äärioikeisto koettaa toiminnallaan rajoittaa.
Vaikka Ukrainan voitto, Iranin naisten vapautus sekä kurdien autonomia häämöttääkin jo horisontissa, emme halua, että vapauteen täytyy nousta jatkossa edes väliaikaisen sortovallan ikeen alta. Siksi on tärkeää pitää yhtä erityisesti limittyvien kriisien keskellä ja toimia vapaudellisten tavoitteiden puolesta aina.
Ota siis liput ja banderollit sekä ystävät, sukulaiset ja työkaverit mukaan ja tulkaa kanssamme näyttämään, että äärioikeistolle ei ole tilaa Helsingin kaduilla tänäkään vuonna!
Pyydämme osallistujia käyttämään kasvomaskeja ja tulemaan paikalle vain terveenä sekä koronaoireettomana.
Mielenosoitukseen ei haluta puoluetunnuksia, valtioiden lippuja tai muita autoritarismia edustavia tunnuksia.
Tapahtuman tarkempi aika, paikka ja reitti ilmoitetaan hyvissä ajoin ennen tapahtumaa.
Tapahtuman järjestää Helsinki ilman natseja -koalitio, jonka muodostavat A-ryhmä, Varisverkosto, Helsingin vasemmistonuoret, Pinkkimusta Helsinki ja Emilia-ryhmä.
*
In English:
Helsinki without nazis – now and forever!
We invite everyone to join us in Helsinki once again on Independence Day 6.12.2022 to show that there's no room for the far right on our streets – ever!
Since 2016 Helsinki without nazis has brought thousands of people to the streets to demand a society free from racism and fascism, as well as been involved in building an antifascist movement. Last year, the extreme right's 612 torch march was blocked for the first time and forced on a different route. However, this single victory is only part of a continuum that has lasted for years, in which organized anti-fascist work has marginalized the activities of the extreme right and caused their events to wither.
Despite the fact that the extreme right has already had to reveal its empty hand, some recent election results in Europe show that simple and unrealistic solutions still appeal to many, whether it be the energy crisis, the environmental crisis, or the inability of capitalism to offer a secure and stable future for everyone.
Although the broader political right, including the far-right, is claiming to oppose Putin, Erdogan, and the Islamic regime of Iran, they are ultimately offering the same miserable life and the restrictions on freedom as the aforementioned authoritarians. The war of aggression Russia is waging against Ukraine is a prime example of the worst case scenario this path of anti-democracy and the centralisation of power can lead to.
At the same time, the violence, harassment and threats of the extreme right in Finland are directed above all at those who threaten the fascist worldview with their very existence: In Kankaanpää, terrorism suspects practiced racist violence for years, last summer's Pride events were threatened and harassed in different parts of the country.
Therefore, anti-fascism is anti-racism, fighting against transphobia and homophobia, and fighting for women's rights. It is the defense of freedom, which the extreme right aims to suppress.
Although the victory of Ukraine, the liberation of women in Iran, and the autonomy of the Kurds are already looming on the horizon, we do not want to have to rise up from under any tyrannical rule, no matter how temporary it might be. That's why it's important to stand united, especially in the midst of overlapping crises, and to always work towards libertarian goals.
So grab your flags, banners, and bring your friends, family and coworkers along to show that the far-right is not welcome in Helsinki this year either!
Please wear face masks and do come only if you do not have COVID-19 symptoms.
Party insignia, national flags, or other authoritarian symbols are not welcome in the demonstration.
The time, place, and route of the demonstration will be announced in advance of the event.
The event is organized by the Helsinki without nazis coalition, which includes A-ryhmä, Varisverkosto, the Left Youth of Helsinki, Pink & Black Helsinki, and Emilia.
*
På svenska:
Helsingfors utan nazister – nu och för alltid!
Vi välkomnar ännu en gång alla till Helsingfors på självständighetsdagen 6.12.2022 för att visa att extremhögern inte är välkomna på gatorna – någonsin!
Helsingfors utan nazister har sedan år 2016 varit med och byggt den antifascistiska rörelsen och samlat tusentals demonstranter på gatorna för att kräva ett samhälle fritt från rasism och fascism. Förra året blockerades extremhögerns fackeltåg "612" för första gången och tvingades ändra sin rutt. Den här lilla segern är en del av en kontinuerlig kamp där organiserad antifascistisk aktivism har lyckats marginalisera extremhögerns verksamheter och fått deras evenemang att krympa.
Till trots för att extremhögerns svagheter avslöjas gång på gång visar valresultaten i Europa att grovt förenklade och eskapistiska lösningar fortfarande attraherar många väljare – energikrisen, klimatkrisen och kapitalismens oförmåga att skapa en trygg och stabil framtid för alla.
Fast den politiska högern och i synnerhet extremhögern vill signalera att de är motståndare till Putin, Erdogan och Irans islamistiska regim så erbjuder de i slutändan endast det samma som de tidigare nämnda diktatorerna; inskränkta friheter och ett liv i armod. Rysslands anfallskrig mot Ukraina är ett utmärkt exempel på vad antidemokratiska och auktoritära lösningar i värsta fall kan leda till.
Samtidigt riktas fascisternas våld, trakasserier och hot i Finland främst mot dem vars blotta existens utmanar deras världsbild: de misstänkta terroristerna i Kankaanpää utövade i åratal rasistiskt våld och sommarens Pride-evenemang fick ännu en gång utstå hot och vandalism runtom i landet.
Därför är antifascism också antirasism, kamp mot trans- och homofobi och en kamp för kvinnors rättigheter. Antifascism är ett försvar av de friheter som extremhögern försöker begränsa.
I horisonten skymtar vi en ukrainsk seger, frihet för Irans kvinnor och kurdisk autonomi men vi vill inte att frihet någonsin ska begränsas ens tillfälligt av auktoritära styren. Därför bör vi alltid kämpa för frihetliga ideal, även i krisens mitt.
Ta därför med dina flaggor och banderoller, ta därför med dina vänner, släktingar och kollegor och visa extremhögern att de aldrig någonsin är välkomna på Helsingfors gator!
Vi önskar att deltagarna använder munskydd och enbart deltar fria från coronasymptom.
I demonstrationen är partisymboler, nationsflaggor och andra auktoritära symboler inte välkomna.
Evenemangets exakta tidtabell och rutt meddelas i god tid före evenemanget.
Evenemanget arrangeras av koalitionen Helsingfors utan nazister, som består av A-ryhmä, Varisnätverket, Helsingfors Vänsterunga, Pinkkimusta Helsinki och Emilia-gruppen.